Senki Shinobi Kids Ninja School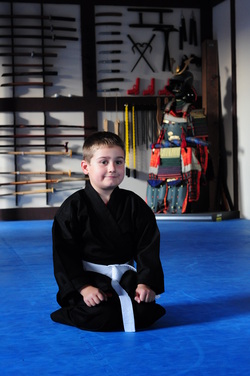 The aim of SenKi Shinobi Kids Ninja School is to provide a high quality tailored self defence program to children through relaxed, friendly and enjoyable classes. The children are there to have fun and learn Martial Arts.
We aim to promote character development, physical fitness and through our lessons we develop, self defence, self confidence, self control, respect, discipline and mental awareness. As this Martial Art gives valuable life skills we learn by having fun, helping each other and along the way meet and make new friends.
Click here to see a small clip
---
---
| | |
| --- | --- |
| PARENT COMMENT: "I have been really impressed with how much my son has learned in such a small amount of time. He impatiently waits for each class each week to meet with some new friends as well as learn new skills in a positive 'can do' environment". | |
PARENT COMMENT: "Great Balance of fun, exercise and discipline".



PARENT COMMENT:"Excellent fun but focused, professional manner considering the age group of the class". The instructor is able to command respect without upset or distraction, quite a skill!"


Our structured lessons are not just aimed at learning set movements and patterns but learning life skills and developing our natural instincts to be able to adapt and react in realistic scenarios. With our "Shinobi Kids Program" we teach a full syllabus all year round to children from the age of 6 years old all the way through to adulthood.



PARENT COMMENT: "We wanted our son to learn more than just how to punch kick etc. Senki Dojo is teaching awareness and body mechanics".


The classes are structured for age groups 6-11 'Small Ninjas' & 12-15 'Junior Warriors'.

Our instructors are experienced martial artists, have certified first aid training, safeguarding certificated and are DBS clearance checked, giving you the peace of mind that your children are training within a qualified and experienced environment.
| | |
| --- | --- |
| PARENT COMMENT:"Our son has gained more of an awareness of his physical space and surroundings". | |
| | |
| --- | --- |
| | PARENT COMMENT: "I would recommend Shinobi Kids to any parent regardless of their child's physical strengths. My two boys are physically opposite but both enjoy ninjutsu immensely. It's so important for them to learn discipline & teamwork whilst having exercise & fun". |
Shinobi Kids Code
We must be kind to all living creatures no matter how small;
We must never bully anybody;
All people are the same, we must respect everyone;
We must be polite and patient;
We must listen to our parents, teachers and elders;
We must keep going and do the best we can.